adminreach
October 5, 2017
---
Former US President Barack Obama surprised his wife Michelle with a touching video message for their anniversary.
Michelle was at the Pennsylvania Conference for Wmen on Tuesday, speaking alongside Grey's Anatomy producer Shonda Rhimes about female empowerment and the pressures of living in the White House.
At the end of the talk, Rhimes told her they had a surprise from her and her husband to mark their 25th wedding anniversary.
The Former US President's face popped up on the screen and gasps of delight erupted from the audience.
Barack said:
"Hey, honey. Listen I know you are with all these important Pennsylvanian women and you are sharing the stage with our buddy Shonda Rhimes but I had to crash this party because today we have been married 25 years.
The idea that you would put up with me for a quarter of a century is a remarkable testament to what a saintly, wonderful, patient person you are."
In the video, he praised her strength, grace and honesty, for being…
"an extraordinary partner, a great friend, somebody who could always make me laugh, somebody who could always make sure that I was following what I thought was right and an example to our daughters and to the entire country.
Your strength, your grace, your determination and your honesty, the fact that you look so good doing all this … it's no wonder that, as people got to know you the way I got to know you, they fell in love.
He ended the sweet message by saying:
"It is truly the best decision that I ever made to be persistent enough asking you out for a date that you finally gave in – and I hope that you feel the same way.
So, I don't want to interrupt the flow of what I am sure is a fascinating discussion but I figured that you wouldn't mind me parachuting in just to say how much I love you."
On their wedding anniversary, the former First Lady Michelle shared a picture of their wedding day on Twitter with the cutest message to her husband. See picture below;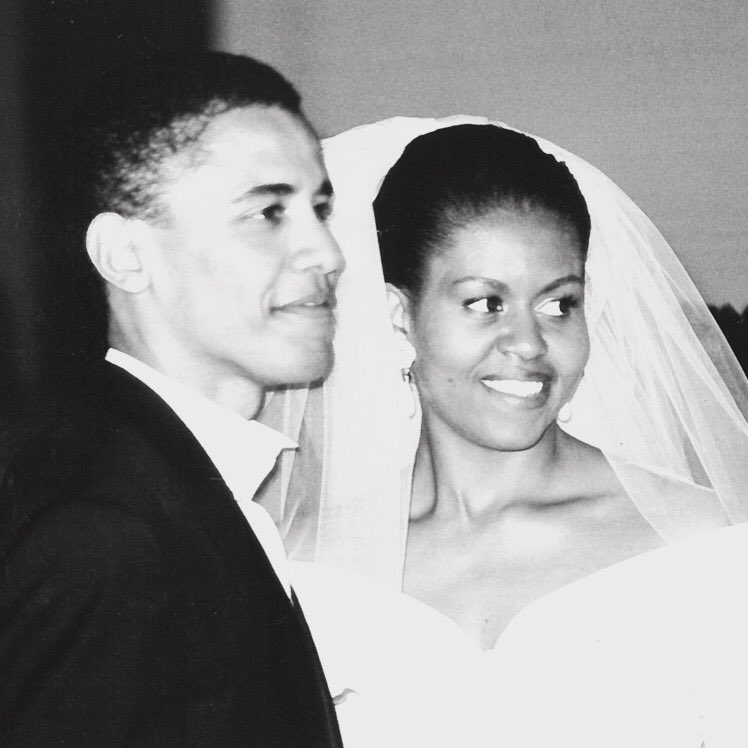 ---